Driven by passion to make a difference
The cause of Africa's health care crises is often linked to lack of medical equipment and facilities to adequately diagnose and treat patients. If a hospital lacks the equipment to diagnose patient's illnesses, how then can they cure the illness?
You may ask; what is the   government doing? Well the governments are actually trying their best but more hands are needed to push the systems up the ladder.
The Onwukwe Foundation is primarily concerned with increasing capacity diagnostic and curative in the health care arena in Africa and the Caribbean as well. Our mission is achieved through the outreaches we organize that provide quality medical care   to the dozens of the African continent.
Onwukwe foundation is a specialized non-profit organization founded in 2017,whose aim is to improve the health status of the underserved communities globally through health Education, screening for early onset of diseases and promotion of preventive health care programs. Our main focus is to make global health interventions and international development initiatives more specific, effective and efficient.
 The foundation's efforts are focused on reducing significant unmet medical needs and health issues facing vulnerable global communities to help make a sustainable impact on the health of people around the world irrespective of their social status, gender, race, culture or religion.
To increase and strengthen the diagnostic and curative capacity of health care in Africa and Caribbean Arena.


Advocate Preventive health care by providing conventional disease screening systems/facilities including the non-communicable diseases such as diabetes mellitus, cancer, hypertension etc.


Promoting health education by organizing health negotiations with society, organization and school.
Our mission is to provide access to high quality health care to the underserved communities, we believe that all lives have equal value and we work to help people live a healthy and productive lives.
 We focus on ways we can impact people and we invest in research and development of new interventions such as drugs, vaccines and diagnostics. We are aware that capacity building and technology transfer will help alleviate the suffering index of the underserved who have no proper access to quality medical care. Hence, we have made arrangement to deliver an ambulance to Nigeria to assist in transporting the victims to the hospitals.
To become a global non-profit organization committed to improving the health status of people in the world with emphasis on the underserved community.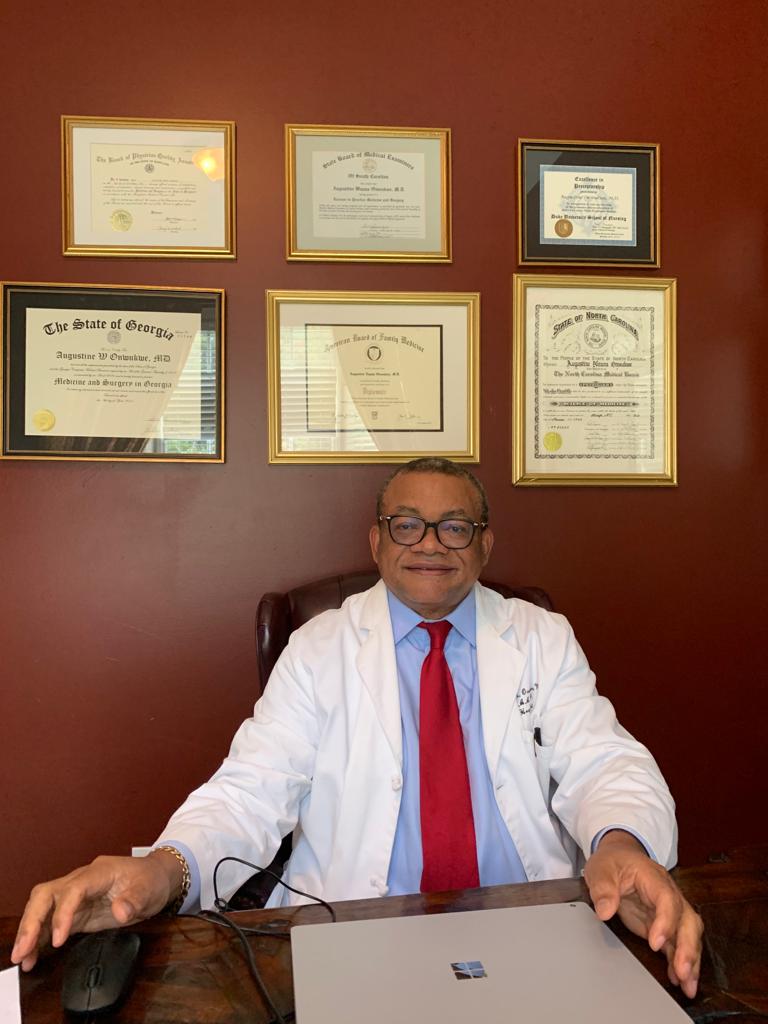 Dr. Augustine Onwukwe has more than 30 years of experience as a medical physician in the Charlotte, NC area.

He is licensed to practice medicine in both NC and SC and is board certified in family medicine.
Dr. Onwukwe is currently the Medical Director at Access Care Medical and he is a member of several professional associations including the American Medical Association, the Association of Nigerian Physicians and Mecklenburg Medical Society of Hospital Medicine.
In addition to his medical accomplishment, the Onwukwe foundation was established. Through his foundation, Dr. Onwukwe makes an annual missionary trip to Africa to personally oversea the mission of his organization.
He has received several awards including the Minority Health award for HIV/AIDS, Cardiovascular Medicine and Physician's Recognition Award.
Dr. Onwukwe is both a speaker and advocate for a variety of medical and social issue including Minority Health, Hypertension, Diabetes and Obesity to mention a few.
He has served as a preceptor and a mentor for Medical students from East Carolina Brody School of Medicine in Greenville, NC Physician Assistant students from Wake Forest University in Winston Salem, NC Duke university, Nurse practitioner and Physician Assistant students.
here are ways to help our cause
Donate
support our mission to reach lives who are sick
Volunteer
be part of our team in any capacity you can, to reach lives who needs help